March For Women's History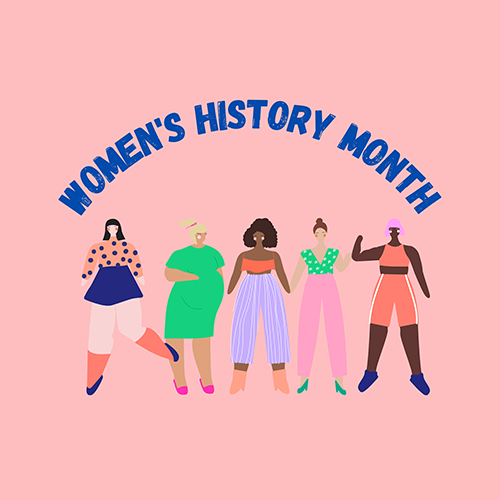 Every year, March is Women's History Month, a period of time dedicated to celebrating the achievements and milestones of historical ladies, both in the name of women and for the rest of the world. But even though the month itself has a short history, the women's rights movement most certainly does not.
Some people today may have heard the term "smash the patriarchy," referring to the abolishment of the abundance of men and shortage of women in government. This form of government has caused women to repeatedly rise up against oppression and work overtime to get their rights. For example, most people know women were not allowed to vote until 1920, and even then, Asian and Native American women were still denied this fundamental right. Women could not open bank accounts in their name, own property or even receive maternity leave, among other injustices, until the 70s. Even today, there are multiple arguments regarding women's rights, including the gender pay gap, women in government and issues relating to body autonomy.
As for Women's History Month itself, it grew out of shorter dedicated amounts of time to reach its full extent. The first Women's History Week was celebrated in 1978 in Sonoma, California. It then was declared a national holiday of sorts in 1980. Finally, it was extended to a full month in 1987, and we have been celebrating it since. Additionally, March is home to International Women's Day on the eighth. One last fact is that each year has a different theme. For example, this year's theme is "Valiant Women Of The Vote," and honors the long and famous affair of suffrage, the act of getting the right to vote for everyone.
To commemorate this month, McAuliffe ASB has planned some events to celebrate women. But rather than focusing on celebrating famous women, as seen in past heritage months, students will be able to nominate women in their lives that have had an impact on them. Similar to past celebrations, there will be an opportunity to create an artistic representation on the topic. A slideshow is being created for students to view, and posters with famous and influential women are currently being displayed all around campus.
Finally, bins have been set out in every class in order to collect clothing, hygiene products and other much needed items to donate. This drive will benefit the Precious Life Shelter, a homeless shelter for pregnant women, and the Women's Shelter of Long Beach. For more information, including a comprehensive list of donatable items, check out ASB's pink posters or head up to the front office. 
When asked about the influence of women and feminism on her life, Mrs. Fluck, a math teacher at McAuliffe, says, "I grew up with very professional women…I think growing up just with those strong women around me gave me the mentality that I can achieve anything that I like or anything I put my mind to…" Many young women are lucky to grow up in this kind of environment, but not everyone is so fortunate. It's quite important to note that, without these kinds of role models, many women would not be where they are today; positive influence is highly necessary.
Hopefully, students at McAuliffe will be able to recognize the importance of achievements by women, with the help of ASB. If all goes well, this Women's History Month should be just as great or even better than heritage months past.