Starring Debut of the Drama Llamas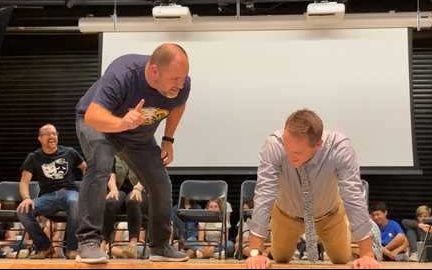 Dana Kim, Editor-in-Chief and Staff Writer
October 2, 2019
Around 200 people came to watch McAuliffe Middle School's first improvisation show on Thursday, August 29, which was an acting competition between the Drama Llamas and the teachers. Although the vote was close, the teachers took home the win!
Dr. Weiss-Wright, Mr. Thomson, Mr. Grillo, Mr. Lynes, and Ms. Manly showed off their creativity and improvisation skills along with 33 eighth graders. All six games created endless laughter for the students, parents and teachers attending. The actors had to quickly adjust to strange locations, such as a jail or a beauty pageant, which was the unique challenge the improvisations offered. In addition, they had to act and describe characters such as a juggler or Mickey Mouse. The absence of preparation made the day even more memorable. 
The show was initially planned to take place in the drama room. Mrs. Armstrong, McAuliffe's drama teacher, expected around 50 people to show up. When more than four times the number was lining around the corner of her room, Mrs. Armstrong was more than happy to move the location to the MPR. Although the showtime was slightly delayed, everyone was in high spirits.
The audience's favorite line of the show was improvised by Mr. Grillo, a seventh-grade history teacher. Imitating a "VSCO girl" at a Walmart store, he announced, "We're shopping for Hydro Flasksksks!" The witty, yet relatable quote was the talk of the day. To add on, Mr. Grillo showed off his "sassy" personality at a beauty pageant, claiming, "My mama told me I could strut way better than you!" 
With the help of the Drama Llamas, the crowd learned that Dr. Weiss-Wright's name is actually spelled "Dr. Weisse-Writgh," and Jack and Rose from the Titanic were reunited after 85 years as a young man and an elderly woman. On the other hand, the teachers exposed some of their deepest, darkest secrets. For example, Dr. Weiss-Wright is scared of the graveyard because he hated his deceased dog. Mr. Lynes showed us that there are two ways to look up items at Walmart. One option is to use the worker's machine, and the other option is to literally look up. 
Everyone had the time of their lives. Eighth-grade student Makenna Evans claims, "It was a great and hilarious show that I would definitely watch again!" Thank you to the drama team for bringing joy and laughter to fellow McAuliffe eagles, teachers and parents. A special congrats to Mrs. Armstrong who planned the improvisation show and made this one of the best days of the year.