McAuliffe Track Meet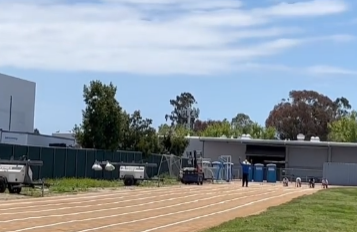 On the week of May 1-5, 2023, McAuliffe held its annual track meet. Each year, students from grades 6-8 compete in track and field events, hoping to get in the top three to advance onto the track meet against Oak Middle School at Los Alamitos High School. In the track meet, there are many events including the high jump, 200-meter, long jump, 400-meter, and many more. The track meet is an exciting opportunity for all students to come together and participate in an amazing, athletic event.
During the week of May 1st, 2023, students were given the opportunity to choose between a track or field event. However, students had to qualify for these events while in their regular P.E. classes. Every event is fun and a great opportunity to show off your skills.
When asked, "How did you feel before the track meet?" McAuliffe seventh-grade student, Arina Fallon, said, "I felt nervous before doing my event in the track meet."
Even though there may be a mix of feelings around the school community, it all is really exciting when you are actually competing in the event itself. Parents were allowed to come out and watch their child compete in their event, and maybe even see them place. All of the track events included: 100-meter, 200-meter, 400-meter, 800-meter, and relay. Students who chose to compete in the relay were chosen based on their 100-meter time, and it consisted of four teams, letting only two qualify. All of the field events included: long jump, high jump, shot put, and hurdles. All of the events are fun and interactive, which can persuade you to do Track and Field as a sport at the high school.
When asked, "What event did you do in the track meet?" McAuliffe seventh-grade student, Arina Fallon said, "I did the High Jump and I got 4' 4", which I got first place in."
When students finish their events, many have mixed emotions. Whether happy or sad, everyone enjoyed it. One of our students, Aspen Natori, at McAuliffe Middle School, responded and said, "I was happy that I got 3rd place in the 400-meter, I was very proud of myself."
Get ready eagles, the track meet at McAuliffe was intense, but the event at the high school will be even more intense. Come out and cheer our fellow Eagles when competing against Oak Middle School at the Los Alamitos High School on May 31. Be supportive and hopefully, we can beat Oak in the track meet!