How McAuliffe Celebrated Kindness Week!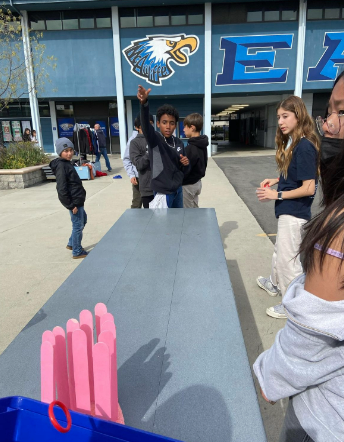 Between February 13th to the 17th, Kindness Week at McAuliffe Middle School took place. So what is Kindness Week at our school? Kindness Week at McAuliffe means spreading generosity and positivity throughout our campus, and making an effort to always be considerate towards each other. During Kindness Week, there were various dress up days and events that occurred.
In the dress up days portion, students blocked out the haters by wearing sunglasses on Monday. On Tuesday, students celebrated Valentine's Day by wearing red or pink. On Wednesday, middle schoolers banded together and wore band t-shirts. On Thursday, Mcauliffe's students were loud and proud while wearing bright colors! Finally, on Friday, students showed their school spirit by decking out in McAuliffe gear. 
The Kindness Week events included: sending friends kindness grams, making friendship bracelets, and a Valentine's Day ring toss. During kindness grams, students sent their friends kind notes that they would deliver to their friends on their own. Many students included little drawings and kind messages when writing and decorating their grams. For friendship bracelets, students, during both lunches, had the chance to design their own bracelet for themselves, or for a friend. 
Carli Dowdell, an eighth grade student said, "I loved having a place to relax during lunch and make bracelets for my friends."
Lastly, during our Valentine's Day ring toss, students attempted to make a ring on one of the popsicle sticks that was attached to the base of the ring toss. If they succeeded, the student would earn a McDonalds or In N' Out gift card. 
Teegan Garland, a seventh grader who participated in the ring toss said, "It was hard and challenging, but it was a really fun game that reminded me of the carnival."
Altogether, McAuliffe had an amazing Kindness Week. Whether students were being artsy and making friendship bracelets, or being thoughtful and sending kindness grams, every student had an opportunity to participate in our school's Kindness Week!