A Time to Honor Our Native Culture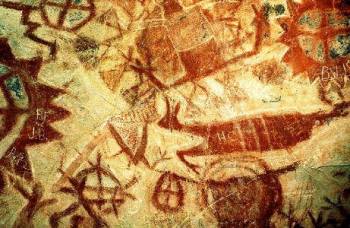 November is the time to honor Native American cultures and contributions to the country. Participating in heritage month activities contributes to recognizing and learning more about McAuliffe's diverse backgrounds. 
Also known as American Indian and Alaska Native Heritage Month, NAHM takes place from Nov. 3 to Dec. 3. Before being declared an official heritage month, the day to honor Native American culture was called American Indian Day. "In 1990 President George H. W. Bush approved a joint resolution designating November 1990 'National American Indian Heritage Month'. Similar proclamations, under variants on the name (including 'Native American Heritage Month' and 'National American Indian and Alaska Native Heritage Month') have been issued each year since 1994," states National Native American Heritage Month, the official NAHM website.
McAuliffe Middle School set multiple events and activities in place to promote NAHM within the school community. These include an educational Google Slide deck, an artistic representation contest and an art activity inspired by Native American cave paintings. 
"Some challenges we faced were definitely making sure that we were able to highlight all of the amazing aspects of the culture as well as making it interactive for students," shared ASB Diversity, Equality and Inclusion (DEI) Committee director Peyton Chuhaloff. The DEI Committee organized and planned the NAHM activities at McAuliffe. 
Swihart, the McAuliffe art teacher who led the NAHM art activity explained how the craft was done. "Students drew on pre-soaked, crinkled brown paper bags with chalk pastels and sharpie to replicate a cave painting of their totem." They added that the inspiration for the activity was "the Native American tribes' relationship to animals and how sacred that relationship [is]. This relationship is called 'totems.'" 
"I took a couple [of] Native American Art classes in college and just loved the overall caring and respectful nature of their culture," Swihart reflected. "Everything is intentional with meaning and they constantly believe in showing respect and thanks." 
Chuhaloff remarked, "I hope that everyone at McAuliffe has learned something new about this culture." 
With the various diverse cultures within McAuliffe's and all other communities, it is important to recognize every one of them. From Native Americans' cave art to their lasting impact on us, their culture will always be valued and appreciated.