Abilities Awareness Week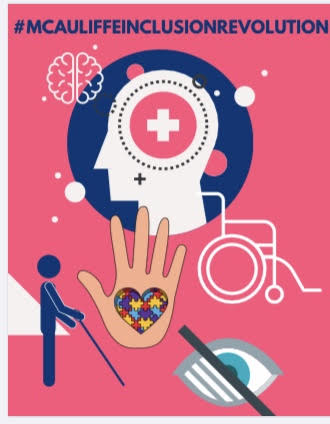 On February 26, 1987, President Ronald Reagan officially declared March National Disabilities Awareness Month. He issued a public announcement saying, "The encouragement and opportunities they need to lead productive lives and to achieve their full potential." This is the 34th year that National Disabilities Awareness Month is being celebrated!
"This DD Awareness Month takes place at a particularly important, pivotal time as our state continues to cope with the ongoing COVID-19 pandemic and recovery from recent winter storms," states Dr. Beth Stalvey, Development Disabilities executive director in Texas. 
Developmental disabilities are defined as impairments in physical, learning, language or behavior areas, and include autism spectrum disorders, cerebral palsy, attention-deficit/hyperactivity disorder, learning or intellectual disabilities, hearing loss and vision impairment.
Abilities Awareness week at McAuliffe will be organized by Ms. Manly. Abilities Awareness week at McAuliffe will include an announcement to help educate students at McAuliffe about different disabilities that students have. Posters will be hung up around campus to inform students about celebrities and their disabilities.
Local and online businesses that empower individuals with disabilities will be highlighted. On March 31, Ameci Pizza & Pasta will host a fundraiser to support McAuliffe! There will also be daily challenges that can be completed at home. Students will post them doing the activity on their grade level google classroom. There will be a raffle prize drawing for students who participate and post themselves completing the activity.
Overall, Abilities Awareness Week's goal is to spread awareness for developmental disabilities at Mcauliffe. Check your grade level google classroom for the activities and check out the posters around campus starting Monday, March 29.