January Spotlight!
HERE ARE YOUR JANUARY SPOTLIGHTS EAGLES!
ASB SPOTLIGHT: Chantee Nguyen is the Publicity Director for McAuliffe ASB, but her contributions extend far beyond that role. ASB is so fortunate to have such a dedicated member. You might recognize her from the Monday morning announcements that she helps write and edits each week, but she is also the creative genius behind all the @mcauliffeasbbirdwatch posts and one of the artists behind all the beautiful posters you've seen on campus. Her talent, work ethic, and passionate commitment to McAuliffe Middle School and ASB make her more than worthy of this acknowledgment. -BELLENDIR
STEM SPOTLIGHT: Madison Quarry is doing a fantastic job in STEM I. She participates and is a leader in her class. She always gives effort and produces high-quality work. – RICE
DRAMA SPOTLIGHT: Colin Eaton is a star! He has participated in numerous productions at McAuliffe, as well as outside of our school. He is even featured as the voice of Charlie Brown at Knott's Berry Farm! Colin always gives 100% in Drama. He memorizes lines quickly, knows how to analyze a character, and makes bold choices. He is a great team player in Advanced Drama and we want to wish him "Break-a-Leg" as he auditions for the Academy of Performing Arts at HBHS!- ARMSTRONG
MUSIC SPOTLIGHT: Davis Taylor has taken on the difficult task of editing green screen footage for Soul Men. He has been a champion and has never complained and does fantastic work. -WALLACE
SPANISH SPOTLIGHT: Alex Demin consistently participates and has excellent responses. He is very good at Spanish and demonstrates outstanding effort.-CALLAWAY
YEARBOOK SPOTLIGHT: Ayden Wells is fearless in his approach to new tasks, especially with everything I put on his plate. While it is Ayden's first year with the Yearbook staff he does not shy away from any problem or challenge. Ayden has been given the challenging role of Editor in his first year, and while that is no easy feat he has dedicated countless hours outside of school to perfecting his craft and becoming an invaluable asset to the Yearbook Staff and to McAuliffe as a whole. -DANFORTH
SPANISH SPOTLIGHT: Addison Butler always participates, is engaged, and does great work. -Callaway
About the Writer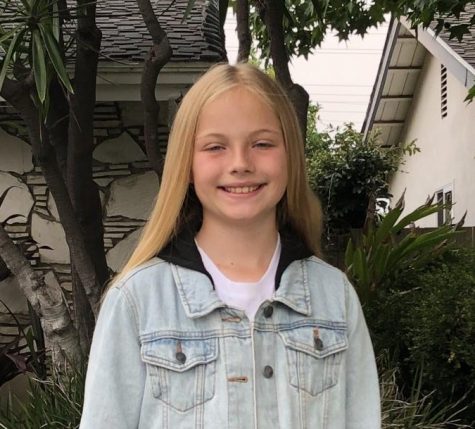 Madison Norberg, Staff Writer
Madison Norberg is a seventh grader at McAuliffe Middle School. Her interest in journalism started at the beginning of sixth grade. She decided to choose...