Action, Adventure and Awesomeness- "The Mandalorian"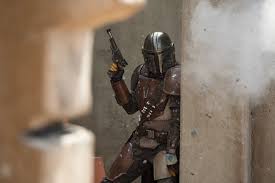 Warning: Contains spoilers for all seasons of "The Mandalorian." 
"Star Wars" fans across the country were marveled and captivated by Lucasfilm's first ever live action series, "The Mandalorian." 
Streaming on Disney+, the show first aired on Nov. 12, 2019, and has been going ever since, with the first season nominated for 15 Emmy Awards. "The series takes place about five years after the events of 'Star Wars': Episode VI 'Return of the Jedi'," according to Wookieepedia, the 'Star Wars' Fandom Wiki. 
"I think ['The Mandalorian' is] a good starting point," McAuliffe P.E. teacher Mr. Pagett remarks. "You could go back and see how it came to that point." Pagett, a 'Star Wars' superfan and expert, tells how he loves to watch "The Mandalorian" with his daughters. The series is canon (part of 'Star Wars,' not made by fans), so it goes with the whole story. He shares how excited he is for the next season, called "The Book of Boba Fett," and how Boba is "gonna be in charge" of Jabba's Palace on the planet of Tatooine. 
"The Mandalorian" stars actor Pedro Pascal, who plays the fearless "Mando." "I went to middle school in Corona del Mar and to high school in Los Alamitos- so I could attend the Orange County School of Arts," Pascal explains in an article from Orange Coast Magazine. During his years at Los Alamitos High School (and then graduating as an alumnus of 1993), he was addressed as Peter Balmaceda and then used his stage name, Pedro Pascal, further into his career.
There are many well-loved characters in "The Mandalorian," including Pascal's character, as well as the adored "Child." Some fans even call Mando's little friend "Baby Yoda." Other well known characters in "The Mandalorian" are Greef Karga, played by Carl Weathers, and Cara Dune, by Gina Carano. "Kuiil was a unique character with an interesting skill set, but the best thing was his line, 'I have spoken.'  My daughters heard 'I have spoken' several times for a few weeks after that episode," Pagett states about his favorite "Mandalorian" character. 
While "Mandalorian" fans watch each episode that is released, rumors begin to bloom. Although "The Child" is a fun and interesting title, the cute Yoda-like creature's name was confirmed to be Grogu, in Episode 13 of "The Mandalorian." There was also a rumor that the legendary Jedi Knight Ahsoka Tano would be in the series. This has been confirmed to be true, as she did appear also in Episode 13: "The Jedi," hence the name of the episode. 
Not only are "Mandalorian" supporters enjoying the fun, but also the popular game Fortnite. "['The Mandalorian'] and Grogu appear in Fortnite Battle Royale's chapter two, season five event, "Zero Point." ["The Mandalorian's"] sniper rifle and jetpack were also available as items," states Wikipedia. Now, players will be able to experience the full effect of the hero's action packed battles using his weapons. 
Once again, Lucasfilm brings its fans the adventure and action that they have waited for. It has been a journey, for both fans and characters, and 'The Mandalorian' still continues!