December Spotlight!
Each month, The Birdwatch will be featuring students who are excelling in their elective classes and have been nominated by their elective teachers.
HERE ARE YOUR DECEMBER SPOTLIGHTS, EAGLES!
ASB SPOTLIGHT: BELLA KIM
Bella Kim is the co-editor of The Birdwatch. Not only has she written exceptional stories this year, but her meticulous eye as an editor has been raising the quality of Birdwatch stories as a whole. In addition to these responsibilities, she has spent countless hours contributing to various ASB tasks, such as poster-making and holiday decorating, in an effort to bring more joy to her fellow eagles. Bella is the epitome of servant leadership and McAuliffe ASB is so fortunate to have her.  -BELLENDIR
DRAMA SPOTLIGHT: SYDNEY MASTICK AND BRYN PAGETT
Sydney Mastick and Bryn Pagett are co-presidents of Jr. Thespian Troupe #89273 (Advanced Drama). Jr. Thespians is part of the International Thespian Society, an elite honors society for theatre. Both students have participated in numerous productions at McAuliffe (Shrek, Once on this Island Jr., Game of Tiaras), earning them the title of co-president. Sydney and Bryn are passionate about acting, demonstrate strong leadership, and continuously work to improve their skills.  -ARMSTRONG
CHOIR SPOTLIGHT: RIANNA NORMAN
Rianna is a very talented singer and dancer. But her talent is only a fraction of why I want to recognize her. She is a very hard worker and balances her academics, extracurricular activities, and art like a professional. She a good communicator, never over committing herself, and always delivering on her promises. She has earned the respect of her fellow classmates on and off the stage, she is very coachable, and a delight to have on our team.  -WALLACE
ART SPOTLIGHT: KAYLIN KLINE
Kaylin Kline is dedicated to projects and new techniques. Is a naturally inclined artist who self explores art in her free time. Excels in the craft way beyond her years! -SWIHART
YEARBOOK SPOTLIGHT: ELENA SAMAYOA
Elena has a work ethic and dedication to her craft that I rarely see in students her age. Elena takes on any challenge asked of her and completes it with the utmost professionality. I am delighted to have her as a student and to be able to rely on her skills, both artistically and practically, as she goes about her work. -DANFORTH
YEARBOOK SPOTLIGHT: SOPHIA MASON
Sophia was chosen as the only Junior Editor for this year's Yearbook Staff. That is no coincidence, however, as her drive and determination make her a fantastic editor. Sophia works incredibly well in tandem with her group while also being able to supervise others. Sophia impresses me every day with her keen eye and is well on her way to being a full-fledged Editor with her spectacular efforts with the 2020-2021 Yearbook.  -DANFORTH
SPANISH SPOTLIGHT: AVA SWIETLIKOWSKI
Ava Swietlikowski consistently does outstanding work. She is amazing!  -CALLAWAY
STEM SPOTLIGHT: KAI ROLLAND-ENGEL
Kai is doing a great job in STEM II. He takes the work seriously, is doing a great job in our activities, and is a leader in the class.  -RICE
About the Writer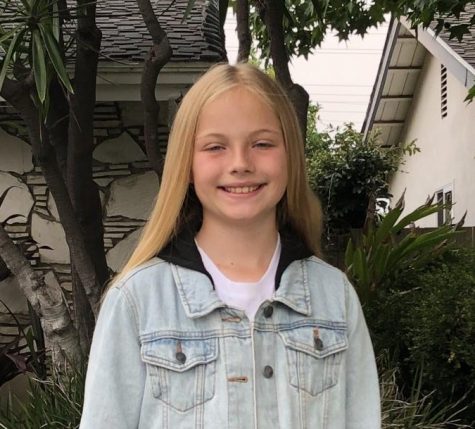 Madison Norberg, Staff Writer
Madison Norberg is a seventh grader at McAuliffe Middle School. Her interest in journalism started at the beginning of sixth grade. She decided to choose...