The Quarantourney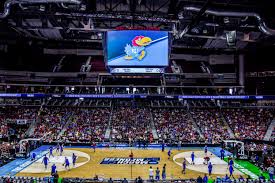 The Division one men's tournament for basketball, also known as March Madness, has been canceled. This year some have called it the Quarantourney, and this nickname explains it.
Most people thought that fans not being allowed to go and watch the teams battle it out was torturous enough, but they were proven wrong. For many, March Madness is a ritual and they participate in watching it every year. "Everyone is out there trying so hard and being part of this new tradition," says David Barrett.
Many fans are disappointed because they may have thought their team was going to take home the trophy, but this year nobody knows what could have happened. Because of all of these interferences the world will have to find another way to get the madness. In this case, it may be a video game, NCAA College Hoops 2K8. It is an old March Madness video game that is being streamed on Youtube. Although it is not the same, it is better than nothing and at least it looks like an actual game. Plus, you can also buy and play the game. According to Kelton Delaney, "I would love to play the game and win with my favorite team."
All in all, fans will be able to stream the game while still bragging about their brackets. Next year's tourney will bring more action and excitement, but for now all we have is a video game.