A Day for the History Books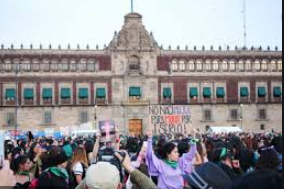 On Sunday, March 8th, 2020, a two-day protest against femicide in Mexico started. 80,000 strong, brave individuals stood in this fight to save the lives of women.
Femicide is when a person commits the murder of a woman because she is just simply a woman. According to the New York Times, there were 1,010 femicides in Mexico in 2019. The New York Times also stated that on average there are 10 women killed every day because of femicide.
March 8th was a day for the history books. Tens of thousands of women came from all over Mexico to fight for their rights as a person. Women attended this historical day wearing purple to symbolize National Women's Day. 
CBS News tells us "80,000 people marched through Mexico City," as a protest for justice over the thousands of females missing and murdered due to gender violence.
Women also planned to disappear and stay home from work. They were a part of a nationwide strike against gender violence of women and girls.
Women continue to strike, protest, march and fight for their safety and justice. They will continue to inspire and fight for what they believe is right and stand up for the lives lost in the violent act of the Mexico femicide.