NBA All-Star Game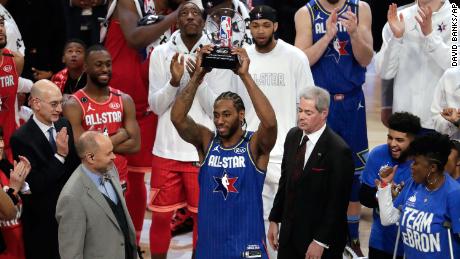 The NBA All-Star Game has come to an end! This year's 2020 All-Star Game was between Team Lebron and Team Giannas, and was held at the United Center, Chicago, Illinois. 
First of all, the NBA All-Star Game is when two teams from the Western and Eastern Conference play against each other with twenty-four of the league's star players. Two star players pick 12 people to be on their team. The event is announced every February by the NBA. 
This year, the NBA changed some of the rules. According to NBA.com, "The winner of each 12-minute quarter (1st, 2nd & 3rd) will be the team that scores the most points within that quarter. Each of the first three quarters is worth $100,000 to the winning team's charity." In response to Kobe Bryant passing away on January 26, 2020. Team Giannis wore No. 24 and Team Lebron wore No. 2 in honor of him and his thirteen-year-old daughter, Gigi Bryant. 
Furthermore, the five starters from the East were Giannis Antetokounmpo, Joel Embiid, Pascal Siakam, Kemba Walker, and Trae Young while the five starters from the West were Lebron James, James Harden, Kawhi Leonard, Anthony Davis, and Luka Doncic. 
According to Jarrod Davis, a seventh-grader at McAuliffe Middle School," I thought Team Giannis was going to win this year." On the contrary, Radames Mendoza affirmed, "I knew Team Lebron would win again because of his elite team." 
Finally, Anthony Davis made the game-winning free throw with a score of 157-155, leading to team Lebron now winning three consecutive All-Star Games. Overall, both teams played well and many are looking forward to next year's All-Star Game.