(SPOILERS) Jurassic World the Ride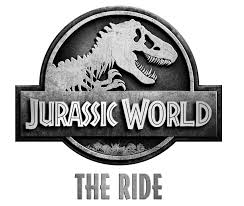 Jurassic Park, a ride at Universal Studios, has been changed to Jurassic World. The newly named ride opened on July 12th, 2019. Though it follows a similar format to the original Jurassic Park ride, it provides a drastic change in scenery and animatronics. 
First off, the ride goes through the Mosasaurus exhibit. The Mosasaurus, a type of dinosaur, sees you and hits the glass, cracking it. After that, a peaceful river setting is introduced and many herbivores, such as Stegosauruses, are displayed.
But nature finds a way, and your peaceful interlude ends when you make it into Predator Cove. The Indominus rex and velociraptors escape their enclosure there. Riders find themselves in the Tyrannosaurus Kingdom and realize that the tyrannosaurus has escaped. Then, they get attacked by dilophosauruses. They see a sign for Blue (Owen's raptor) warning that there is something coming.
Bushes to the left start rumbling and riders see the Indominus rex roaring at them. Next, the T-rex comes out in front of the boat, ready to have his lunch. Finally, riders drop under him with an 84-foot decline.
Right now, the ride is under refurbishment. At the moment, the boats for the ride are parked outside in the back lot.
An anonymous Universal Studios guest remarked, "It was a huge disappointment that we didn't see the Indominus Rex. That is the biggest reason why I wanted to go on the ride." 
A Universal Studios employee stated, "They may be working on the timing of the Tyrannosaurus Rex." The employee also added, "They are going to put back the Indominus Rex that has made a disappearance in the finale of the ride."
For park-goers not tall enough for the ride, Universal thought about them as well by adding a playground called DinoPlay, located right next to the ride. Universal advertises, "Discover the interactive DinoPlay for kids area with new activities for our younger guests." DinoPlay has gone through minor changes through the transformation of Jurassic Park.
Universal has also changed the arch that invites you into the dinosaur world. The arch, which used to be brown, red and white, read "Jurassic Park." It is now gray and blue with "Jurassic World" lettering.
Many fans are awaiting the future updates to come for this ride. If you have ridden this ride, share your thoughts on it below.