Senate Recognizes Armenian Genocide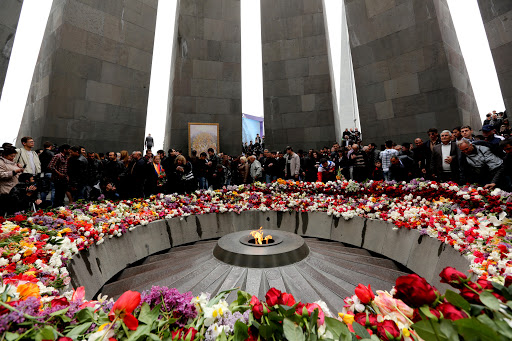 On October 29, 2019, the United States House of Representatives passed a resolution to formally recognize the Armenian Genocide, which took place a hundred years prior, with a vote of 405-11. Then, following three blocked attempts, on December 12, the Senate unanimously voted to recognize the Armenian Genocide. 
Turkey's president, Recep Tayyip Erdogan, stated that the House of Representatives had no authority to arbitrate the murder of 1.5 million Armenians. However, the Armenian youth, who have continued to fight for the genocide to be recognized these past 105 years, were elated to hear the news. All of their work was finally paying off, but was not quite completed yet. 
When Nayiri Cherchian, a member of the Armenian Youth Federation, heard the news she explained, "My initial reaction was very emotional, very surreal. The first thing that I thought about was my grandmother and what it would mean for her. I wished she was alive to be able to see this because she passed away going through a genocide, feeling like it was denied. Going through such horrific things and then being told that that didn't happen to you. So, it was just a very emotional time for me. At the same time I was very proud that finally, the United States recognized the genocide."
Many people do not know about Armenia's past. Although it is required to be taught in California's school curriculum, it's merely touched upon. Taleen Djermakian stated, "Absolutely, especially in the state of California where we have a high Armenian immigrant population, and actually, schools are required to teach about the Armenian genocide. That is part of the curriculum and standards, and in order to fully grasp why this genocide is so important and impactful, you have to understand the history of the Armenian people as well."
The Armenian genocide was the mass killing and deportation of 1.5 million Armenian people beginning in 1915. During World War I, the Turkish government set a plan in motion to completely eliminate the Armenian population. By the early 1920s, about 600,000 Armenians had been deported and 1.5 million killed. This marked the first known genocide of the 20th century. 
As expressed, the Armenian people have done everything in their power to have this genocide recognized. If they didn't continue to believe and fight, it would have been forgotten, along with their culture. When acts like these go unnoticed, they repeat themselves and no one learns from the first mistake.