It's Time to Weigh in on How Our Backpacks Affect Our Spines
Let's face it: it is difficult being a student. Kids have to carry their homework from class to class, from home to school and from school to home. All while carrying heavy textbooks on their back.
According to a survey taken across the U.S., the average middle-schooler has a backpack weight of 18.4 pounds. In a survey of the Birdwatch staff, students' backpacks were weighed. The lightest backpack weighed exactly seven pounds, while the heaviest backpack weighed 17.8 pounds. The class average was 12.9 pounds. 
It goes without saying that most kids typically have a lower pain tolerance than adults. But age is not the only factor that affects pain. Women also tend to have a lower pain tolerance than men and are more susceptible to back pain. According to the U.S. National Library of Medicine, "…overall females have higher prevalence of low back pain." Back pain can begin when you are young, making children vulnerable to health issues, such as scoliosis. 
In order to avoid back problems later in life (or early on), we need to address what is most affecting the backs of young generations: the heavy backpacks we carry. The American Academy of Pediatrics recommends that your backpack should weigh no more than 10%-20% of your body weight. This is because the heavy weight of backpacks can pull your shoulders back or push them forward, putting too much strain on them. To compensate for the lack of balance, you will either push your hips forward or arch your back, causing your spine to unnaturally compress. Dr. Cynthia Burkhardt, D.C., a licensed chiropractor, states that heavy backpacks can "be very fatiguing on your back muscles and it encourages poor posture."
In terms of lightening the load on your shoulders, there is one solution that seems the most obvious: lockers. Lockers are provided for keeping all the books and supplies that you don't need off your back. Birdwatch staffer Caroline Kerns had the lightest backpack of all, weighing seven pounds. She stated, "Every period or few periods I change out my books and materials for the next class."
Matthew Lim, on the other hand, had the heaviest backpack, weighing in at 17.8 pounds. He stated that in his backpack he has about 2 books, 4 notebooks, a couple math and language arts journals, his journalism binder, along with notes and books from other subjects.
So next time you find yourself carrying lots of unneeded books and supplies, perhaps it's smart to unload them into your locker and take some weight off your shoulders.
View Comments (21)
About the Writer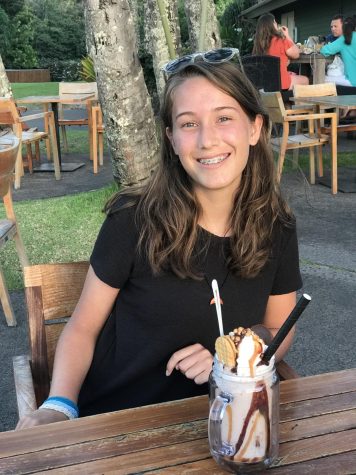 Mona Taylor, Editor-in-Chief and Staff Writer
Mona Taylor is currently a dog-obsessed eighth grader at McAuliffe Middle School. Her favorite hobbies include volleyball, skateboarding, hanging out with...