Hoodie Melo's Return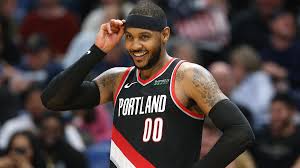 Carmelo Anthony is, arguably, addicted to basketball. He practices and plays all the time, and could not get away from the sport for long. Melo, as Anthony is commonly called, was a star in the NBA starting in 2003. With all of the hype around him and considering his age, he decided to retire from the NBA in 2018 while on the Houston Rockets, but was soon to come back.
Currently, Anthony is a 35-year-old professional athlete playing on the Portland Trail Blazers with an all-star teammate named Damian Lillard. In 2019, Lillard averaged 27.3 points per game, taking his team to the playoffs. With his opponents focused on high-scoring teammate Lillard, Melo is able to earn points undetected.
The main reason that this Trailblazer is a consistent shooter and skillful playmaker is that he keeps getting better because he continues to work on his strengths and improve his weaknesses. During the forward's break from the league, he worked on his skills and made them stronger. Eric Muro, a seventh grader at McAuliffe Middle School, states, "He has gotten better over his break and is helping the Blazers win more games."
Losing his father, Carmelo Iriarte, to cancer when Anthony was only two years old made him more dedicated to play ball for somebody he loved and lost, but ultimately he focuses on being the best player for himself. According to Anthony, "Nobody should expect more of you than you expect of yourself." This is one of the many quotes that Melo lives his life by. 
Despite people thinking that Melo had an effortless path to the NBA, he actually experienced many difficulties and has some critics. According to Ethan Pak, a basketball fan and seventh grader at McAuliffe, "Carmelo isn't as good as all the other NBA superstars." To illustrate, there are many other basketball players that have better skills and are more talented than Anthony.
Hoodie Melo is an icon in the NBA with an overall .473 two-point shooting percentage, but he also has the skills to blow by defenders and throw down a dunk. He is a passionate athlete for the game he loves. Anthony is hoping to help his team progress past the third round of the playoffs and maybe even make it to the finals.