A Taste From Every Nation
We're all used to our everyday lunches and the foods we grew up eating, but it's not all about the basic pizza, hamburger, or chicken nuggets we are used to finding on our dishes. From three-course meals to yogurt sandwiches, students around the world encounter different tastes while enjoying their break.
1.United States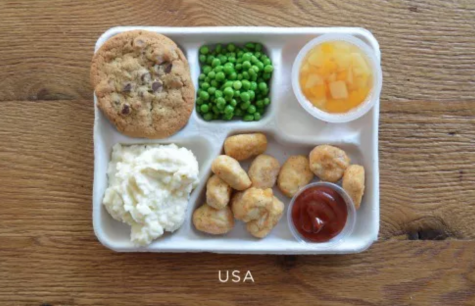 A common school lunch in the U.S. will include some form of meat, such as a hamburger or chicken nuggets. In addition to that, students usually consume veggies or a salad. However, Grace Lee, a seventh-grader at Mcauliffe Middle School claims, "The school makes you pick out one fruit or veggie, but most kids just throw them away after." Most schools will also offer chocolate or regular milk, which is an important source of calcium. "Overall, I think that the quality of our school lunch isn't the best, but it's still pretty okay," states Lee.
2. Lebanon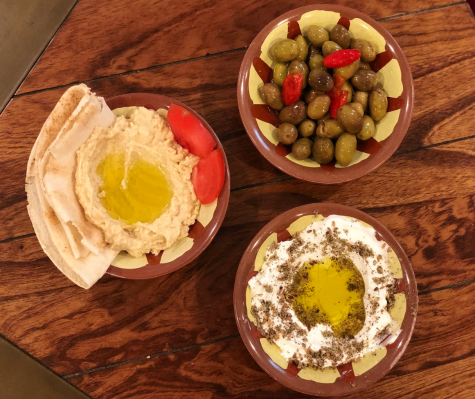 In Lebanon, children are provided a yogurt and oregano sandwich accompanied by olives and a dip of hummus. Sally Essayli, a seventh-grader who previously lived in Lebanon stated, "Sometimes I have Lebneh [yogurt sandwich] and other times I have zaatar [oregano] and olive oil on pita bread."
3. France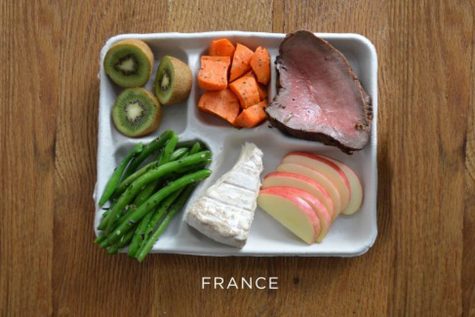 In France, school lunches are divided into four courses throughout the day. The day is first boosted with a salad or some vegetables. The second course is the main course, which is usually chicken, beef, or pork. Later on, students in France are offered a cheese course, which is frequently a cheese sandwich. The last course is summed up with a healthy dessert, which might be comprised of fresh fruits.
4. Russia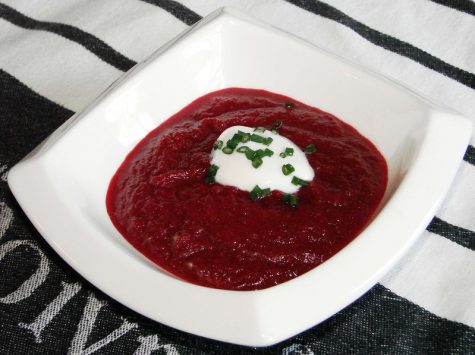 Similar to France, the Russian school lunch also is broken down into several courses. The first meal contains beet soup, or borscht which is garnished with sour cream and fresh dill. Their main meal carries a type of meat and a slice of bread. The last meal is a sweet drink formed from syrup and fruits.
5. Brazil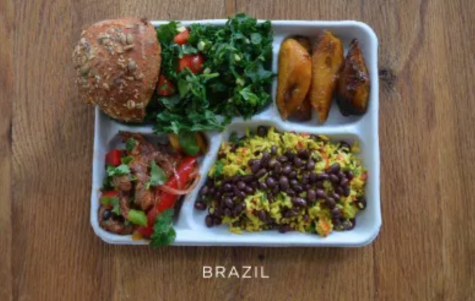 Popular dishes in this country essentially consist of mixed veggies and pork with rice and black beans accompanied with salad, bread, and baked plantains.
6. Italy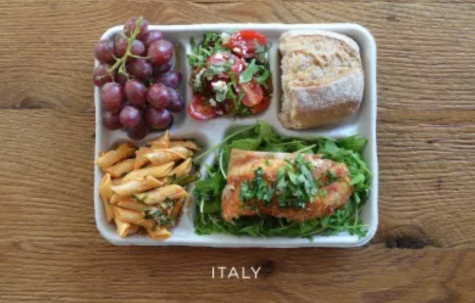 In Italy, younger students receive lunch provided by the school while the older students have a choice of either going home or enjoying their lunch on campus. Regardless of the location where lunch is consumed, most common dishes are risotto and pasta. Aside from that, students consume a slice of fish on arugula, Caprese salad, a baguette, and a bunch of grapes.
7. India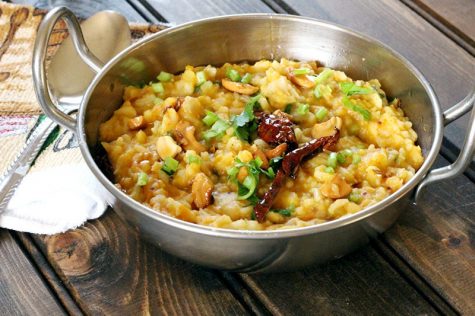 School students carry along their own metal plates in which they usually eat khichdi. Khichdi is a traditional dish in India and includes vegetables, mixed rice, lentils, and a piece of naan bread. Wealthier schools will usually include eggs in the khichdi dish.
8. Japan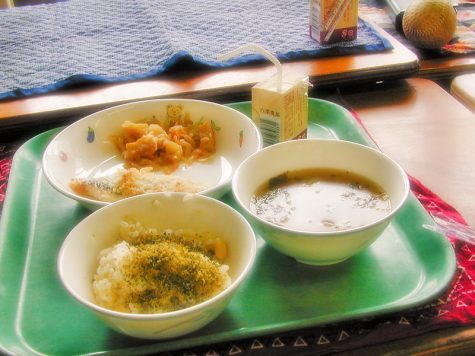 In this country, most students eat school-made lunches. School lunches are balanced diets of soup, milk, vegetables, and a source of protein such as beef, tofu, fish, or chicken.
9. Netherlands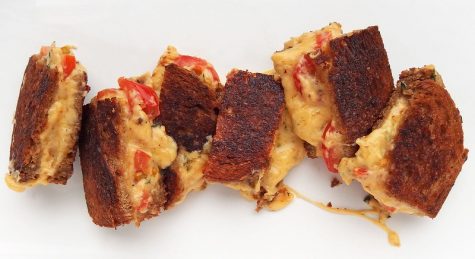 Students mostly bring along their own lunch in the Netherlands. Home lunch usually consists of a tosti sandwich. A tosti sandwich is a grilled sandwich packed with cheese and ham.
Every country has different cultures, different tastes, and different style. Because of this, diverse recipes that lead to a variety of meals are created. What do you think of these school lunches from around the world?
View Comments (7)
About the Contributor
Hala Essayli, Assistant Editor and Staff Writer
Hala Essayli is an eighth grader who currently attends McAuliffe Middle school. Her favorite sport is gymnastics, but she also enjoys soccer along with...