AirPods Newest Generation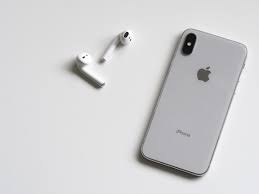 Apple's AirPods have been massively popular since the new drop of the AirPods Pro. The company has added new features including noise cancellation.
Apple revealed the $249 AirPods Pro on October 28, 2019, which comes with active noise cancellation, auto technology, duel beamforming, and sensors. AirPods Pros' anti-noise feature cancels outside sound before you hear it. When it comes to the design of the accessory, the AirPods have had a drastic change. The new AirPods Pro feature a wider case and add different silicon tips for your ears.
Since their debut, AirPods have skyrocketed in demand. For example, in 2017, 14-16 million Apple AirPods were sold. Manufacturers are predicting that there will be 100-110 million overall AirPod purchases. Due to Apple's massive success with these accessories, memes comparing AirPods and Apple's traditional earbuds have been made.
Eighth-grader Michelle Garcia says, "Everyone uses them because they are wireless and cool and easier to use." But when it comes to responsibility, the AirPods are easy to lose. 
"They are small and you can lose them [easily]," Alana Vazquez states. "Just because the [AirPods Pro] come with advanced features doesn't mean they are worth it. They only have a few minor upgrades and for the major price difference, they ain't worth it." 
AirPods have come a long way since they were first created in 2016. Apple has had the wireless headphones go through two generations before the announcement of AirPods Pro. The new iterations of these accessories have affected adults, children and memes alike.